Varun Gandhi to campaign in Udupi on April 26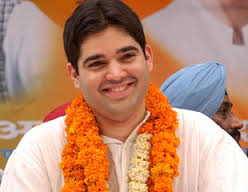 Udupi, April 24, 2013:
National BJP youth leader and  MP Varun Gandhi and Karnataka chief minister Jagadish Shettar will visit Udupi for campaigning in Udupi,  according to Udhyakumar Shetty, District President of BJP.  Shettar will arrive in Udupi on April 25 and would campaign at Uppunda, Koteshwara and Brahmavara.  Varun Gandhi is expected to arrive in Udupi on April 26 and would address meetings at Kaup, Udupi and Hebri.
He said the party expects that campaigning by high profile leaders of the party would infuse greater vigor in the party rank and file and help the candidates in the electoral hustings.