Thousands rally to oppose Ethina Hole project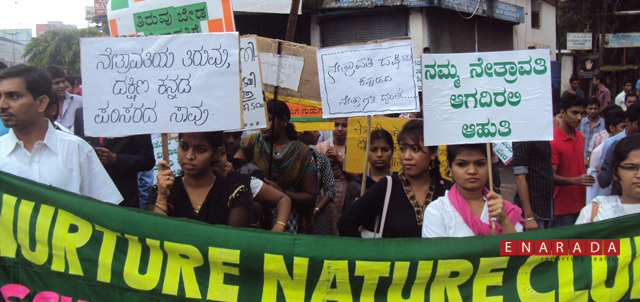 ENARADA, Mangalore, October 2, 2013:
Photo and Report by C D Souza
With the nation observing Mahatma Gandhi's birthday today it proved to be the best occasion for Mangaloreans to organize a protest rally opposing the much in the news Ethina Hole project.  Ethina Hole project involves diversion of Netravati river which is the lifeline of undivided Dakshina Kannada district.  Fiddling with the natural river will have far reaching consequences and therefore this protest rally was organized to awaken the people of undivided Dakshina Kannada to the dangers involved in diverting Netravat river.
The rally titled Karavaliya Nela Jala Samrakshana Jatha organized under the aegis of Karavali Yuva Sinchana, Vanyacharana Balaga and Mangalroe City Rotarax was supported by 13 other organizations and was attended by thousands of people including a large number of youth.
Chief Minister Siddaramaiah during his recent visit to Mangalore had  given a new twist to placate all those opposing the project saying it is not river diversion but just lifting of Netravati water and said the Ethinahole project would go on come what may.  It is under this backdrop this rally attended by a large number of people from different cross sections of the society assumes significance.   It being a holiday and that too being Gandhi Jayanthi the peaceful rally clearly falsified that Mangaloreans are fighters and don't take things lying down. This really clearly demonstrated that Mangaloreans don't hesitate to rise to the occasion when the situation demands and to create a movement through public awareness on issues concerning their city and their wellbeing.  Perhaps Ethina Hole project has brought together people of undivided Dakshina Kannada who have begun to realize that the multi-crore  Netravati River Diversion project would prove detrimental to the people of Dakshina Kannada in the long run.
The rally was flagged off from Ambedkar Circle, Jyothi and culminated at the DC's office.  The protesters carried banners, placards and shouted slogans against the project thought out the 2 kms long rally.
The rally which congregated at DC's office was addressed by Kishore Kumar, President of Malnad Janapara Horata Samiti said that we are Kannadigas and we cannot say we don't want to give water to our own brethren.  But by spending Rs. 8329 crores, which might go up any time, to lift 24 TMC of water it is going to be a costly drinking water for the beneficiary districts of Chikballapur and Kolar.  "The Ethina Hole project gives an opportunity for politicians to make money and is not done with any concern for the people of Karnataka.  We protest this policy of duplicity of the government", Kishore   Kumar stated.
The organizations which joined hands with the main organizers in today's  Jatha were  Netravathi Nadi Thiruvu Yojene Virodhi Horata Samiti, Uppinangadi led by Dr Niranjan Rai, Netravati Samrakshana Samiti, B C Road, led by Sundar Rao, Kudremukh Wild Life Foundation, Karavali Chitrakala Chavadi, Mangalore unit of Youth Hostes Association,  Areholle Prathishtan, Mangalore, All  College Students Association and Malnad Students Association,  MSW, Roshni Nilaya, Team Mangalore, RX Life Mangalore, Netravati river samrakshana samiti, Puttur, Lions Club, Mangalore and  Aam Aadmi Party members.